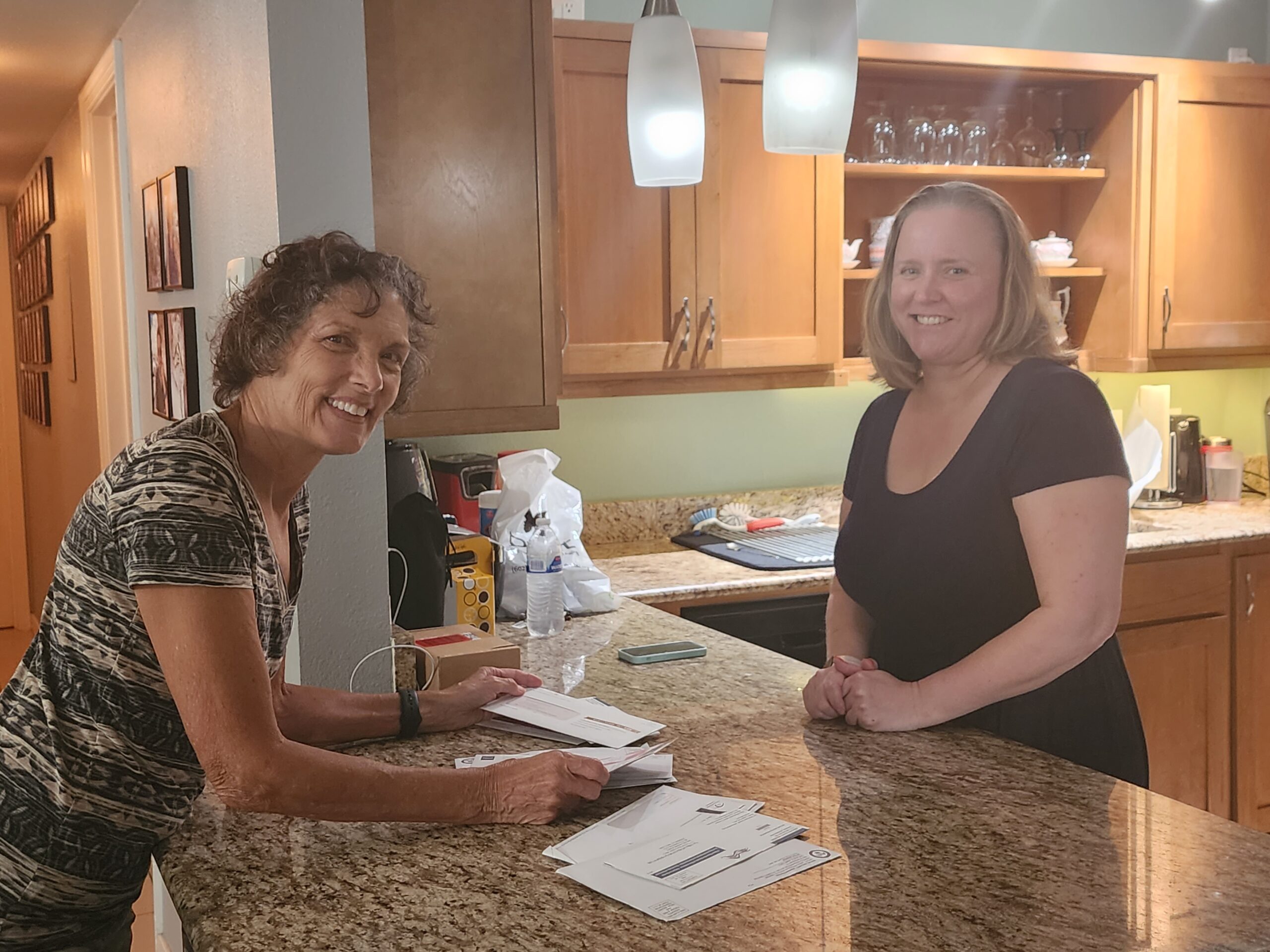 "It sounds sort of cliché, but I always feel like it's such a small thing to do, but it's so surprising what your get out of it."

Duet volunteer, Janet Yonker
Family was coming over for dinner. She had a heads up this time, and planning and organizing were her jam—her job as Community Relations Liaison at Saavi Services for the Blind depended on this very skillset. Her boyfriend, Scott, loved to cook and was voluntold to do all the cooking for the gathering. Rachel just had to make sure to be prepared.
Rachel made her shopping list with all the ingredients needed for the menu: appetizers, beverages, spices for the main dish, canned goods for the side dishes, and dessert. She had even arranged for transportation to and from the grocery store thanks to her new Duet volunteer, Janet Yonker. The two of them had recently met for the first time when Janet had assisted Rachel with some paperwork and mail sorting. It's not that Rachel couldn't manage paperwork—she was a 47-year-old fulltime working mother who had raised her now adult son—there were just some things she couldn't feel her way through and needed to touch with her eyes to truly oversee, and Janet made that possible.
Rachel Kuntz has lived with a degenerative eye disease since she was 14 years old, limiting her sight to shadows and forms. As her eye disease slowly progressed, so did her dependence on a new set of skills. A revelatory vacation to Washington D.C. revealed her vulnerability when she found herself alone in an elevator and couldn't read the Braille number to push for her floor. At the age of 40, Rachel attended a training center for the blind and learned Braille and how to use a white cane mobility stick for navigation. However, despite her newly acquired skillset, she acknowledged her need for support from others and was excited to learn of Duet's services for homebound adults. "I couldn't have been matched with anyone better than Janet," she shares. Reliance on strangers comes with its own form of vulnerability, but from the get-go, Janet made Rachel feel safe and valued.
Following their trip to the store, Janet assisted with unloading the groceries in Rachel's pantry. With Rachel's gentle guidance, Janet shelved and placed the items neatly in rows. However, the encounter did not end there. Not content with leaving her assignment prematurely, Janet proceeded to stay a little longer to assist Rachel in labeling all those pantry items with Braille labels. "It was such a small thing," remarks Janet, "and I got so much more out of [volunteering] than I expected."
What's even more remarkable is how Janet's small act of service not only helped Rachel feel more self-reliant and independent, but it also helped her boyfriend—also visually impaired—easily prepare a beautiful meal for their family. Duet volunteers are more than their task at hand. In some cases, they are the eyes touching what can't be seen—a beautiful reciprocal relationship in which each person is seen and valued.
For just a few hours a month, you can help an isolated homebound adult living in your neighborhood remain independent. Register today for an upcoming volunteer orientation to learn more.