Duet Helps Local Neighbors Stay In Their Own Homes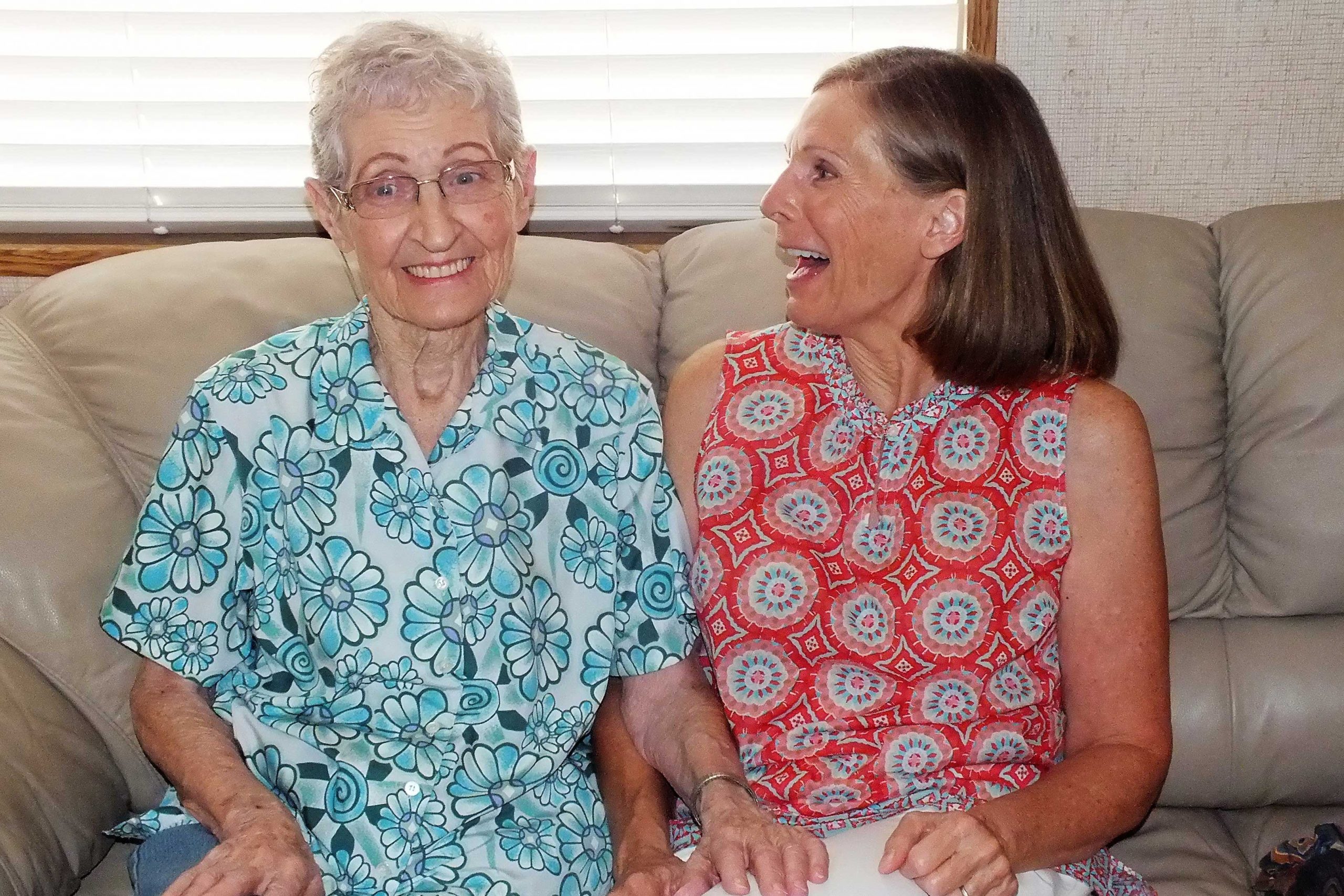 Pictured above: Duet volunteer Julia [right] and her neighbor Helen [left] have met every Wednesday for two years for friendly visiting and grocery shopping.
By Clare Goldsberry
Ninety percent of older Americans surveyed said that they want to stay in their own homes, according to an AARP survey report. This is not surprising. It's something we all think about as we age. Home is a truly meaningful place and we don't want to leave it.
My own mother declared many times over the last 10 years of her life, "My address was Burlington, Kentucky, the day I was born and it will be Burlington, Kentucky the day I die." And so it was. She passed the day after her 97th birthday – June 18, 2018 – remaining in a home that she and my Dad built in 1946. It was the home in which I and my two brothers were born. It was her life and she was determined she would never leave it.
Mom was lucky. She had my oldest son, who lived on one side of her on the family farm, and my brother who lived on the other side of her. Sandwiched between these two very able helpers, she had transportation when she decided to give up driving at the age of 90. She had friends from church who visited her frequently. My son began doing her grocery shopping about five years ago when she decided she couldn't walk around the store any more.
She enjoyed living alone. She was engaged in doing genealogy work for herself and for friends and family members who were interested in their ancestors. She was very computer-savvy and had a sharp memory until the day she passed. She cooked for herself, but always enjoyed the food that her friends and family members brought in for her weekly. She was one of the lucky ones.
Many of the elderly in the Phoenix area are not that lucky. They moved here to retire with their spouse, leaving friends and family behind many miles away. When aging brought on difficulties and driving was no longer an option, many were left with the only option facing so many elderly—giving up their homes and moving to assisted living. That makes being able to get groceries a real lifeline for so many.
Grocery shopping – either with or for a neighbor – is one of the primary programs at Duet. The gratitude of these neighbors – the term we use for those being helped by Duet's volunteers – is overwhelming. Duet volunteers also provide transportation to doctor appointments. While there are alternatives such as city-funded transportation programs, most do not offer the personal care that Duet volunteers do.
There is the alternative of ordering groceries online and having them delivered by the store, but Duet's neighbors do not get the loving concern of friendship that Duet volunteers offer. The grocery delivery person will bring the groceries to the door but they will not give the neighbor a warm hug, help the put the groceries away or sit and chat for a while like Duet volunteers do. Many become close friends over the years. At Duet we offer care, concern and compassion to those who want to stay in their own homes as long as possible by giving the much needed assistance to make that possible.
There are more than 60 homebound adults waiting for volunteers to help them with rides to the grocery store or medical appointments. Duet has volunteer orientations coming up on December 13 and January 5, 2019.
Click here to learn more about becoming a Duet volunteer.