In Memory of The Rev. Dr. Dosia Carlson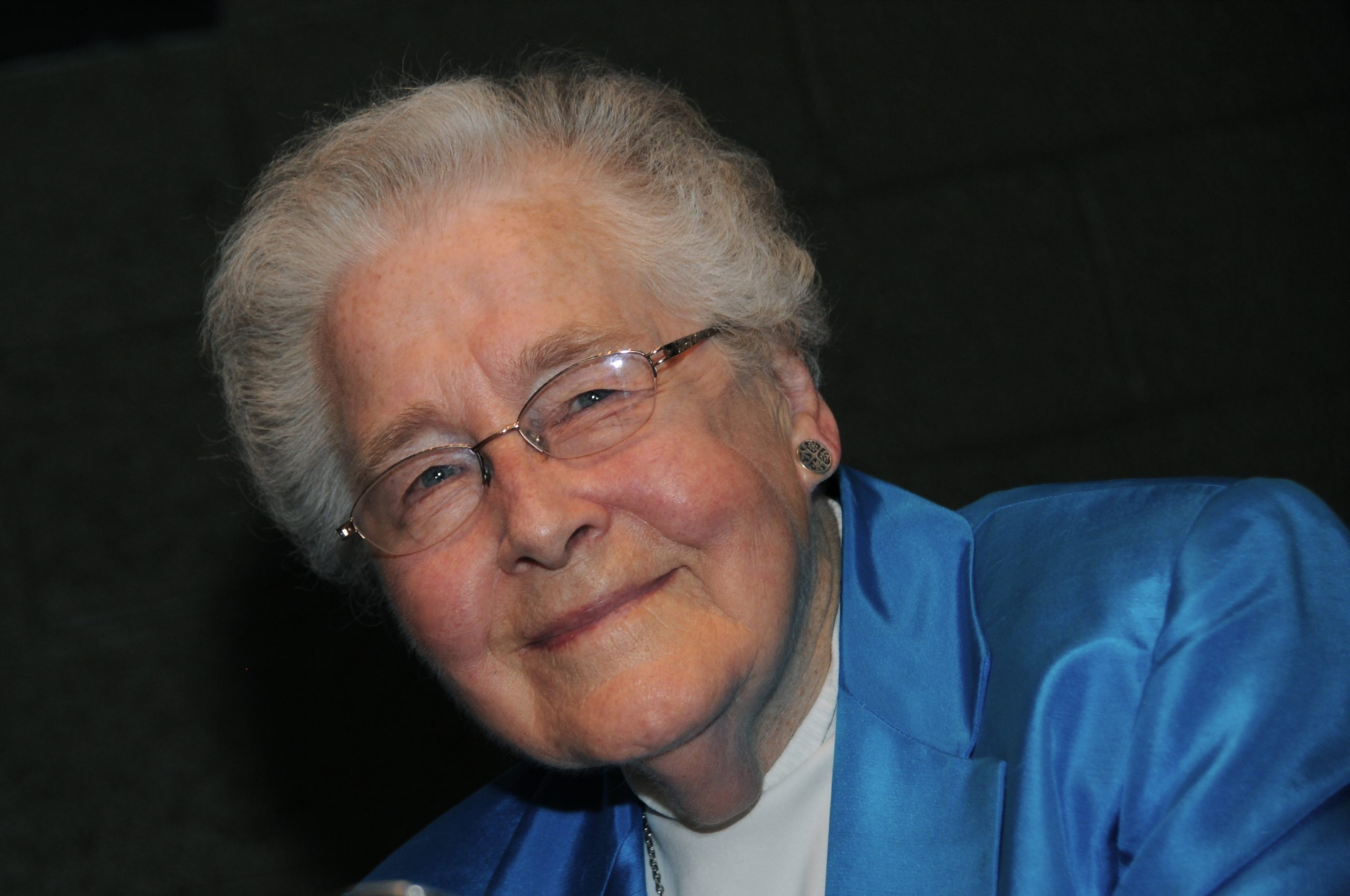 With heavy hearts, we share that Duet's founder, The Rev. Dr. Dosia Carlson, succumbed to complications from COVID-19.  She passed peacefully at 8 p.m. January 13, two days following her 91st birthday.  Only days before her passing, we were preparing to feature her in a video commemorating Duet's 40th anniversary.  A dynamo all her decades, she remained active with Duet, and was the heart and soul of our organization. 
Four decades ago, Dosia's empathy for the plight of senior citizens heightened.  She called them the "invisible elderly."  Many needed help with basics, such as grocery shopping and rides to medical appointments.  To realize her vision of a community where every person ages with compassion, dignity, and hope, in 1981 she founded Beatitudes Center for Developing Older Adult Resources (DOAR).  In 2009, the name was changed to Duet: Partners In Health & Aging.    
A few months ago, looking toward Duet's 40th year, Dosia said, "I think the legacy of Duet includes enriched living for thousands of older persons, hope for caregivers, guidance for grandfamilies, and healthier congregations.  In my 90th year, I give thanks for all who support this magnificent organization."     
Despite requiring some physical assistance like the seniors she had helped, per her hallmark humility, Dosia focused on extending gratitude to others.  The love she gave, she received in return, as many who were touched by her lent a hand in aiding her.   
Every one of us — donors, volunteers, staff — along with the tens of thousands of vulnerable older adults who have been served over forty years – comprise the flourishing Duet community owing to this one precious woman.  What a resounding testament to a life of service to others. 
Our intention to have Dosia face the video camera on behalf of Duet was sidetracked by a greater plan.  Aware of her imminent passage, she faced her Maker as she sang one of her favorite hymns, exhibiting the resolve with which she launched an institution.   
Following Dosia's passing, her brother Bob said, "Dosia's legacy of love will continue far into the future. She was so in love with Duet." Then he shared an excerpt from the final entry she wrote in her journal the day she died:  
I'm going into the promised holy life, grateful for each of you. Live in peace, love, working for justice! I'm moving calmly into the Divine light. 
So very Dosia. We have posted several pictures of Dosia in a Facebook album, "Moments with Dosia," that we invite you to view and add your favorite photo or memory. We are humbled and grateful for the encouragement of Dosia's family to lift up the opportunity to make donations in her memory. It is only fitting that everyone will have the opportunity to unite in love to celebrate the life of Dosia on Sunday, February 14, at 2 p.m. MST. The memorial gathering will be available to watch live online at the Church of Beatitude's website. We take to heart Dosia's journal message as we faithfully carry on her legacy.